FUSAA provides complete IT & Security solutions for both, residential and enterprise, small and medium businesses.
Our Core Focus and Values
Fourteen years ago, FUSAA started as an idea.… no, a dream, of three young entrepreneurs… We the founders of FUSAA thought… what if we simply built a computer to the best standards, sold it for a reasonable price and our main goal isn't profit, but to benefit our clients with excellent products, knowledge and even teach some business experience to the youths of our country.
Over the years, we have expanded our portfolio and now offer:
Camera Surveillance Systems
Security Alarm Systems
Access Control Systems
Home Automation
Computer Networking
Wireless Networks
Desktop PC & Laptop Sales and Repairs
Data Recovery
Printer Repairs & Servicing
Small Package Imports & Sourcing
Internet & Gaming Café
How does all this happen from building and selling computers?They're quite common right? Everyone sells them! It's simple. We at FUSAA have incorporated into our business several other businesses and business ideas, making us a well-rounded multi-tasking operation.   "We don't just offer the best computers and computer related components at the best rates, we offer access to the internet via our very own internet café, we offer to custom build computers unlike any others in Trinidad & Tobago… In our fourteen years in business, we have expanded out skillset to include Security Alarm Systems, Camera Surveillence Systems and a host of other services. We are proud to say that we perform these tasks with much care and consideration to reduce long term system failures due to improper installation"
We, the founders of FUSAA, have each been given a first class education in computer technology and have undergone several years of both hardware and software experience in both public and private fields of work. Each of us also have experience teaching computer studies and working publicly and privately with tech support, systems analysis and business systems. So don't worry, with FUSAA, you're in good hands! Unlike most businesses, we're not going to boast that we're the cheapest, or the best bargain, or the best deal, because let's face it; most businesses just say that to deceive, impress and draw in the customers. We at FUSAA know that we're going to have to earn your trust and we'll work hard to do just that! We are going to boast that we have the best quality products and excellent customer service, with packages that can be customized to suit every customer!
We offer quality Warranties with After Sales Service and Support like NO OTHER!
For our Computers: We would not sell you the cheapest computers made from inferior and substandard parts and we would NOT even sell you good computers at ridiculously high prices!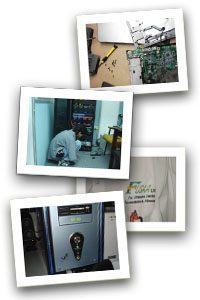 "We at FUSAA are all about quality… quality at the best price to suit our customer's needs with the best service a company can offer!"
All Technicians are fully trained with a strong educational background and Versatile in many different fields.